华瑞兴律师事务所成立于2002年,是一家以公司化管理的综合性律师事务所。华瑞兴律师事务所现有中国执业律师三十余人,大部分律师可用普通话、英文与客户进行交流,部分律师兼具海外律师执业资格。华瑞兴律师事务所办公地点设在中国广东省广州市天河区黄埔大道159号富星商贸大厦西塔26层(人民日报广东分社)。本所自有办公面积近千平方米,位于珠江新城金融商业中心、交通便利、环境优美、设备先进、风格雅致。

华瑞兴律师事务所在提供建设工程、房地产、三旧改造、PPP项目、特色小镇、海外基础设施等法律服务方面成绩卓著,深受客户信赖,多次获得褒奖。现集揽"广东建筑业最佳合作律师事务所"、"广东省建筑业协会法律顾问"、"2015ENR/建筑时报最值得推荐的中国工程法律10家专业事务所"、"2015年度市政基础PPP项目首选律师事务所"、广州市人民政府法制办PPP法律咨询专家律所、最高检《方圆律政》年度房地产律师律所、CCTV城市中国PPP专业律师律所、国家财政部PPP中心专家律所等诸多荣誉。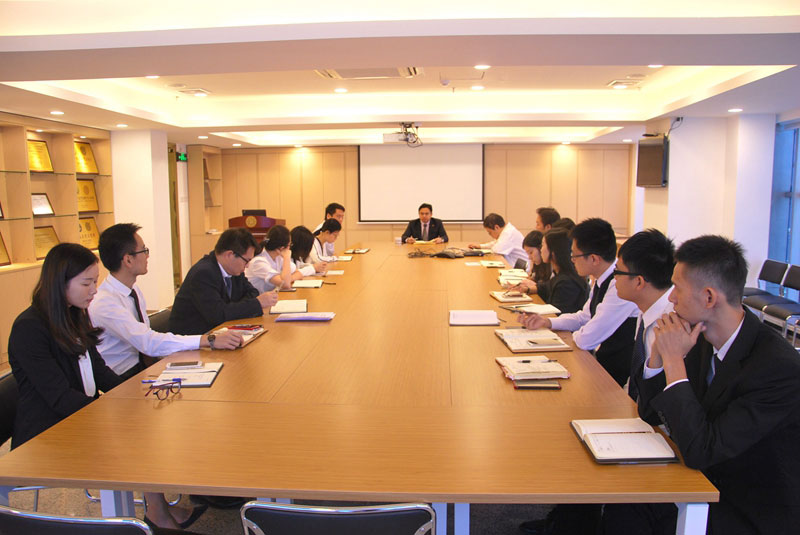 United & Way :
United & Way Law Firm, which was founded in 2002, is a corporatization Law Firm composed of a team of more than 30 lawyers focusing mainly on Construction and Real Estate (Chinese PPP) and Foreign Finance. We providing legal services on various fields such as PPP, so-called "characteristic" towns, infrastructures abroad and etc..
Our team of qualified lawyers allow us to deal with cases in English, Mandarin Chinese, Cantonese, Teochew and Hakka. Moreover, some of them also obtained the Lawyer Practice Qualification Certificate from overseas. United & Way Law Firm is located in the Floor 26, West Tower, Fuxing Commercial Building, No. 159 Huangpu Avenue, Tianhe District, Guangzhou, Guangdong, China (Guangdong Branch of People's Daily), , which is the Financial and Business Center of Zhujiang New Town. The Law Firm is nearly 1000 square meters with convenient transportation, beautiful environment, advanced equipment and elegant style.
The numerous clients trusting us over the years allowed our firm to earn many prizes, amogst which :
- the Best Cooperation Law Firm of Guangdong's Construction Industry;
- Legal consultant of Guangdong Construction Industry Association;
- Top 10 Law Firm to recommend in Chinese Engineering Law by 2015 ENR/Construction Times;
- The Preferred Law Firm of municipal infrastructure PPP in 2015;
- Professional Law Firm with PPP Legal Expert of the Law Office of Guangzhou Government;
- Law Firm with Annual Real Estate Lawyer granted by Fangyuan Legal Magazine of the Supreme People's Procurator;
- Professional PPP Law Firm with PPP Lawyer attending China City of CCTV;
- Professional Law Firm owning PPP Legal Advisor of the PPP Center of the Ministry of Finance and etc…
Our culture :
A vision: becoming the first PPP professional corporatization Law Firm in China.
A mission: building a professional, team-oriented, corporatization and international Law Firm.
A value: providing you with specially-assigned personnel, professional and concentrative legal services to the clients.
Spirit: Virtuous, Innovative, Team-oriented and Benefit Sharing.
United & Way :
Le cabinet d'avocats United & Way, fondé en 2002, est composé d'une équipe de plus de 30 avocats qui concentrent le principal de leurs activités autour de deux pôles : le droit de la construction et de l'immobilier et le droit financier international. Notre offre de services couvre tout particulièrement le domaine des PPP (Partenariat Public-Privé), de la construction de villes dites "particulières" et des infrastructures a l'etranger, sans pour autant s'y limiter.
Notre équipe d'avocats qualifies nous permet de traiter les dossiers en Chinois Mandarin, en Anglais,en Cantonnais, en Teochew ou en Hakka. De plus, certains de nos avocats détiennent les diplômes leur permettant de plaider à l'étranger.
Les nombreux clients nous ayant accordé leur confiance nous a permis de décrocher de nombreux prix, notamment :
- le titre du meilleur cabinet d'avocat de la province du Guangdong en matière de construction et d'industrie
- Conseil juridique de la Construction Industry Association de la province du Guangdong,
- le top 10 des cabinets d'avocats recommandés par l' Engineering News-Record/Construction Times en matière de droit de l'ingénierie en Chine,
- le cabinet d'avocats préféré en matière de PPP en infrastructures municipales en 2015 par les experts juridiques du Bureau juridique du Gouvernement local de Canton
- le titre du cabinet d'avocats ayant le meilleur expert en matière immobilière décerné par le journal juridique Fangyuan du Procureur polulaire chinois
- le statut, pour un de nos avocats, d'intervenant en tant que spécialiste du PPP dans le programme télévisé "Villes de Chines" de la chaîne internationale CCTV
- faire partie des cabinets d'avocats ayant dans son équipe un conseiller en PPP reconnu par le Centre PPP du Ministère des Finances Chinois…
Le cabinet d'avocats United & Way est situé en plein cœur du nouveau quartier d'affaire de Zhujiang au 26ème etage de la tour commerciale Fuxing (au 159 avenue Hangpu, district de Tianhe, Canton

Notre culture :
Une vision : devenir le meilleur cabinet d'avocats en matière de PPP en Chine.
Une mission : mettre à votre service une équipe professionnelle et compétente de professionnels du droit.
Un esprit : l'innovation, la cohésion d'équipe et l'efficacité.